Gardening tools. There are so many, and people are constantly coming up with new ones for different purposes. Every gardener has their own way of doing things and thus would need tools that would suit them. We, at Fantastic Gardeners, have made this guide based on our experts' experience and goes over the bare essentials and some specifically useful tools that would make garden work more effortless and fun.
Gloves
A good pair of gardening gloves is essential for everyone who spend a great deal of time in the garden. They'll keep your hands safe from thorn, splinters, blisters, and any minor inconvenience gardening might throw at your hands. Go for a durable but not bulky pair.
Wide brimmed hat
You might overlook the importance of sun protection while working in the garden. Our advice is – Don't! A good straw hat will guard you not only against a nasty case of sunburned neck, but also heat stroke and skin cancer.
Shovel
When it comes to moving soil around and digging holes, there's nothing that can beat the good old shovel.
Spade
However if your projects are on the smaller side, and you don't necessarily need to move half of your garden to the other side of the yard, a trusty spade is better. It's smaller and easier to work with. Grab one with a strong steel spade and a fibreglass handle and it will last you a lifetime.
Combined Hoe
A fork hoe and a regular hoe in one, this tool will save you space while giving you the functionality of both. Perfect for aerating and breaking up soil.
Loop Hoe
Also called an oscillating hoe, this gardening tool is perfect for weeding as it effortlessly pulls out the roots of the invaders. It's also very handy for tidying up the edges of your garden beds thanks to it's shape. The loop hoe slips very easily under the top layer of soil, making it very good for cultivating it, or when you wish to add compost to it.
Golden Gark
We are pretty sure the golden gark is on its way to replace the traditional rake. It's good both for raking leaves and sifting soil. It's also advertised as being able to be used as a shovel, but we personally think that's a bit of stretch.
Loppers
While technically not shafted tools, they do offer a much-improved reach over secateurs and must be used with both hands. This, however, provides a huge increase in cutting power for when you need to cut off a whole branch from a tree or a hedge.
Pole Saw
This is a rather niche tool, but if the loppers can't reach or cut through something, this is your best bet. They come in both powered and non-powered varieties and with varying pole lengths depending on your needs.
Secateurs
A good pair of sharp secateurs is an essential gardening tool. Your garden requires regular pruning especially if you tend to shrubs and fruit trees, and these will save you a lot of effort.
Weeding sickle
The ultimate weapon in the war against the weed invaders. The weeding sickle will strike where it hurts the most – the roots. It cuts times better than a regular hoe and it's much more precise. You just hook it around the weed about 3-4cm in the soil and it will slash their roots clean off.
Dibbler
A simple tool for putting down holes for planting. It's typically marked along the length to minimise the guessing game of how deep you should make the hole.
Garden trowel
The spade's little handheld brother. An invaluable tool for every garden.
Hori hori knife
Also known as a Japanese gardening knife, this little miracle will become your best gardening buddy. It's basically a concave knife with one edge for cutting and another for sawing. The hori hori easily replaces both the gardening trowel as it can be used to move dirt and the modern models typically come graded like the dibbler. As an added bonus the name literally means "diggy diggy" in Japanese. Isn't that cute?
Watering can
A watering can is always useful for garden beds and potted plants as it comes with no hoses attached. We specifically recommend one with a long and slender spout because it allows you to deliver water where it's needed. Some plants can develop rot if not watered right.
Water wand
For everything else, a water wand is much like its magical counterpart. It extends, the spout head is often changeable to suit your needs, and the water loss is minimal. Grab a model with a built-in valve so you don't need to walk back and forth to the spigot every time you need to shut off the water.
Wheelbarrow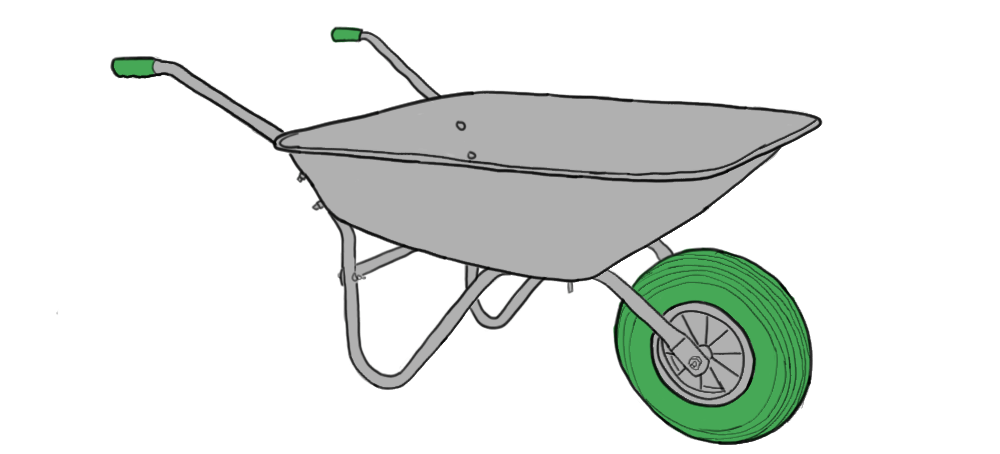 What can we say about the good old trusty wheelbarrow that you don't already know? It's not an essential tool if your garden is small, but it's invaluable otherwise. From keeping all your gardening tools handy to bearing the heavy loads for you, it has stood the test of time.
Cloches
Cloches are basically miniature greenhouses used to shield plants from the cold and winds. They are most often made of glass or transparent plastic, but there are also wicker and wireframe varieties. The latter is used to protect from pest animals and can be overlayed with straw or plastic depending on the plant's needs to serve its original purpose.
Need a hand around the garden?
We are available to assist!